Custom Music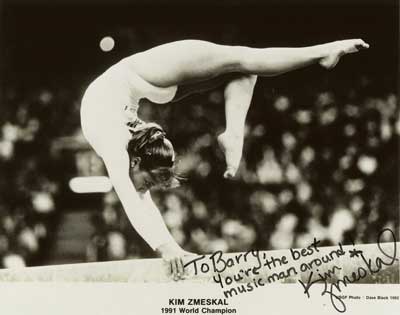 If you are looking for anything that is not in the Floor Express Music catalog or if you have a great idea for a new routine, custom music is available.
Since 1978, Barry has worked with over 10,000 athletes, coaches and choreographers developing thousands of floor routines. He has a library of over 3500 routines and creates several hundred new ones each year. Custom music is available to all gymnasts at all levels - he works with absolute beginning athletes as well as Olympic champions. New music ideas are of particular interest. If you see a new piece of music that you think might make a great routine, ask about it - if it is possible, he will do it. All custom music prices are extremely reasonable, especially for new ideas.
e-mail questions to: barry@barrynease.com
Phone: (970) 668-5434
Barry Nease has arranged for: Aly Raisman, Shawn Johnson, Chellsie Memmel, Shayla Worley, Samantha Peszek, Daria Jorga, Shannon Miller, Kim Zmeskal, Svetlana Boguinskaia, Dominique Moceanu, Ludivine Furnon, Morgan White, Tatiana Gutsu, Dominique Dawes, Amanda Borden, Jaycie Phelps, Keri Strug, Jessica Davis, Betty Okino, Kathy Johnson, Brandy Johnson, Tracee Talavara, Kelly Garrison, Dianne Durham, Elfi Schlegel....... WOGA, Chow's, Cincinnati Gymnastics, Parkettes, IGI, Karolyi's, Dynamos, Browns, University of Utah, University of Alabama, University of Georgia, Australian National Team........... Bela Karolyi, Marta Karolyi, Geze Pozsar, Antonia Markova, Peggy Liddick, Adriana Pop, Nancy Roach, Wendy Hilliard, Muriel Grossfeld, Toby Towson....