Bio

Barry is a composer, arranger, performer, studio musician, orchestrater, producer, pipe organist, pianist, music director, conductor, sound designer, synth programmer and recording engineer.

International Gymnast Article

The following article was published in the March 2003 issue of International Gymnast.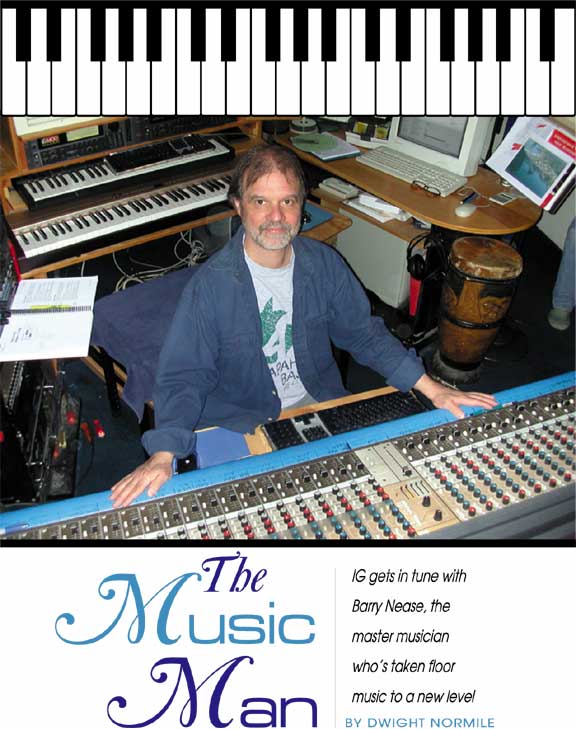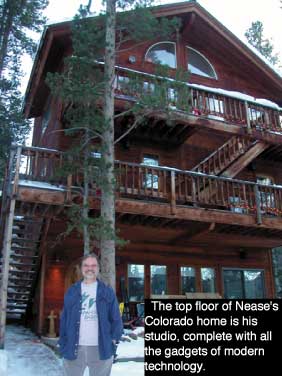 Barry always seems to be smiling and/or laughing, and he speaks like a typical musician. "Glad you could make it! C'mon in, man!" he says as his visitors arrive. It's freezing, the ground is covered with snow and ice, and Nease is outside in stocking feet. For the next hour you are transported into another dimension, a delicious world of music and gymnastics. Brahms, Bach, Beethoven........ Strauss, Tracy, Karolyi.


You learn all about the ebullient character who's arranged and played the memorable tunes for just about every famous American gymnast since the 1980 Olympics. Kathy Johnson, Tracee Talavera, Dianne Durham, Kelly Garrison, Kim Zmeskal, Betty Okino, Shannon Miller, Dominique Moceanu, Jaycie Phelps (deep breath), Amanda Borden, Kerri Strug, Morgan White and Kristen Maloney (and lots more). His client list also includes several college teams, the Australian team and France's Ludivine Furnon.


Nease never set out to do this. He started playing piano when he was four, and was an ice dancer with his sister until he was 18. As a highschooler in Pennsylvania, he played organ at Penn State gymnastics meets. Not for floor routines, but as part of the entertainment package produced by head coach Gene Wettstone, who knew how to transform a gym meet into a Broadway show.Nease eventually studied music at Penn State, where he received a degree in composition. Then he earned a master's degree in the same field from Pittsburgh, where he met Gail. But what to do next?


In 1978 Ed Isabelle, an assistant under Wettstone, invited Nease to write floor music for athletes at his summer camp (Woodward). When fall arrived, Nease stuffed a piano inside a Ford van and toured the eastern U.S., stopping at various gym clubs. In the next four years he produced about 1,700 piano pieces for gymnastics.


Twenty years later you can't count the routines anymore. Nor can you realistically enumerate the instruments in a single piece of Barry Nease floor music. "I just finished a piece that used 140," Nease says. "But
sometimes I work with just a handful."


Prior to 1980, the rules allowed for only one instrument to be used for floor music. Then full orchestration entered the picture and Nease was pushed further into his element. "Composing in a recording studio was basically what I'd done my degrees in and I was totally cranked," he says. "A large part of my master's degree was in the compositional aspects of editing. I was wicked with the blade from the get-go. I'd done hundreds of thousands of cuts [laughs]. I started cutting tape when I was 16."


Of course, that was then. Technology and computers have enabled Nease to do what he loves. He calls it "virtual orchestration."


Nease's home may feature a grand piano on the main floor, but you need to ascend various stairways to reach this musician's heaven. The top floor is a state-of-the-art studio, with every possible gadget necessary to create any sound imaginable. (Just when you think you've hiked your last step, you notice the studio also has a 12-foot rock-climbing wall!)


"Most music in this day and age is produced in a studio like mine, using the instruments that I'm using," says Nease, surrounded by keyboards, computers, a giant mixer, speakers and various unidentifiable boxes with lots of knobs. Nease isn't just talking about floor music, either. He means everything from movie soundtracks to pop tunes.
Nease gives his visitors a quick demonstration. He goes over to a very fast Mac G4 and cues up a piece he's been working on. It's a medley of Brian Setzer tunes for Tia Orlando of the Parkettes. Sound fills the room and Nease starts moving his head and various other body parts to the rhythm. You can see how the music fills his being, tapping an inner chord of passion. The computer screen shows nothing but cold, squiggly lines. Nease explains what he has done, but it sounds too confusing.


Then he grabs a handful of CD-ROMs and explains, "That's very expensive software." Each CD case is titled "Strings" or "Percussion" or "Woodwinds." It's all starting to make sense.If a gymnast wants a specific tune from a movie, a Broadway show, or just about anything, Nease creates it as a gym routine. He literally plays every note.


As the sport itself has evolved, so has floor music. Nease still plays the piano, but the notes go through a Macintosh computer loaded with Digital Performer 3.0. "In the beginning, when I used to visit gyms, I would play a piano piece," Nease begins. "And then floor music went through the whole cut-and-splice editing thing. Ever since Kim's (Zmeskal) "Rock Around the Clock" piece, which was my first virtual orchestration for gymnastics, I've come back around to playing and composing from scratch again."


Back in the early '90s Nease did most of the music for the Karolyi gymnasts, Cincinnati Gymnastics Academy and Dynamo. He's worked with the Parkettes forever. "I can remember "West Side Story" was one of the best floors we've ever had, and it was one of the first pieces that he ever did for us," says Parkettes coach Donna Strauss, who's worked with Barry since the 1970s. "In those days you still had the reel-to-reel (tape recorder). He's quite a character … he had the ability to really stick to something and he was willing to try. …Whenever we're in dire need we give him a call, and it's just been a very good working relationship."


Says Cincinnati coach Mary Lee Tracy, "I have called Barry and described a vision of what I want—the athlete's body type, personality, etc.—and he creates the perfect piece."


Once the Karolyis discovered Nease, they were sold as well. "He was working with the individual needs and he was ready to do all kinds of work [and] corrections," Marta Karolyi recalls. "Basically, he was a good man. We don't have too many in our country, unfortunately [laughs]. So it was good."
Marta is a veteran of the sport, so she knows great floor music when she hears it. "The most important thing is that the music fits the gymnast," she says. "That's the hardest part. …And certainly there are a lot of other things. It has to have some public appeal, we want to catch the attention of the audience, and we want to please the judges."


Nease does all that and more, despite the increasing demands of the ever-changing rules. Older routines usually had only three tumbling passes, but today's exercises often have four. In other words, every second—and every note—counts. "The music is requiring a high level of density in terms of stuff, things for choreographers to work with," says Nease, who also did the freestyle music for the U.S. ski team for seven years. "The routines are so much more loaded with elements."


It's early January and Nease has just received a new request from WOGA coach Yevgeny Marchenko. He needs floor music for Carly Patterson, Hollie Vise and Kaitlin White. These are custom pieces that often take several days to complete. "I make the arrangement on piano," says Nease, who also plays for his church and in a fusion jam band. "And then I orchestrate it and I become all these different instruments through the power of technology." And if he can't create the specific sound he needs, he brings in studio musicians to play additional parts.


Once the music is finished, it eventually becomes a part of Gail's company, Floor Express Music, where it becomes available to everyone. Nease has had his favorites through the years. Of course, Zmeskal's music ranks right up there, but Nease also names the 1996 routines of Dominique Moceanu (Charlie Daniels) and Amanda Borden (Jerry Lee Lewis). Nease is an unusual man. Talented artists are often temperamental, but Barry's like the guy next door. He's not after personal acclaim. For him, it's all about helping the gymnast. "I'm looking for the athlete to be happy," he says.


You can witness his work at just about any gymnastics meet these days, whether it's for beginners or Elites. And don't worry. You'll know which pieces were created by Nease. They'll be the ones that rise well above the rest.



Biography

Born in 1948, Barry grew up in State College, Pennsylvania. He began playing the piano when he was four, switching to pipe organ as soon as he could reach the pedals (around age twelve). Soon after, he joined his first rock band and was playing the Hammond B-3 professionally by age fourteen. He is a graduate of Penn State with a BFA in composition and the University of Pittsburgh with an MFA in compositon. He studied with Lewis Spratlan (2000 Pulitzer Prize), Earl Wild (legendary Grammy winning pianist and composer), jazz musician Nathan Davis, and composer Frank McCarty.

In 1968, Penn State installed one of the first electronic music studios in the country, built around the 3rd Moog synthesizer ever assembled. Barry composed many of his early electronic works in this studio. To offset the absence of live musicians, live performances frequently involved dancers. He continued his fascination with early synths at Pitt in a studio established by west coast composer Morton Subotnick. This studio was built around a Buchla synthesizer and had an army of tape recorders. He composed several huge pieces involving synth generated sounds and thousands of tape edits. He became dedicated to composing in the emerging modern studio.

After a year as music director for a 10 piece band, followed by 2 years playing piano in an Italian restaurant, he established his first composing studio. In the summer of 1978, he began working with gymnasts and in 1980, he did the first orchestrations for gymnastics in the USA - the first 10 pieces were for the 1980 US Olympic Team.

He married fellow musician, Gail, in 1975. In 1988, they moved from the east to the west and established Barry Nease Studio and Floor Express Music near Frisco, Colorado. For the last 15 years, he has returned to one of his first loves - liturgical music. He has composed numerous Christian chamber pieces and a large number of compositions in the form of Choral Preludes - most notably, a large collection of Christmas preludes. A prolific composer, he has produced over 40 CDs of music for gymnastics and continues to write custom arrangements for some of the best athletes from all over the world.